About Clare Haggas: Clare is a renowned wildlife artist, based in Cheltenham England, who brings her artwork to life on British made, silk accessories. Read more here.
Clare Haggas, renowned for her exquisite fusion of art and fashion, has unveiled an enchanting addition to her accessory collection for Autumn/Winter 2023. The spotlight is on the iconic painting, "Turf War," which has taken on a breathtaking new hue—Duck Egg. This release is not merely a colour transformation; it's a journey into the heart of Clare's inspiration and passion for the great outdoors and wildlife.
Inspiration Behind "Turf War"
Capturing the raw intensity which the pheasants feel and the overpowering need to win the supreme position in the territory, this dramatic and elegant piece depicts the drama and emotion which takes place every Spring amongst Cock Pheasants all over the country.
"Turf War" reflects Clare Haggas's profound connection to British Wildlife and her love of the outdoors. The painting captures the essence of a moment in the great outdoors, with two jostling, magnificent pheasants, showcasing Haggas's ability to translate raw beauty and movement onto canvas.
The Evolution: "Turf War" on Silk in 2017
A pivotal moment in Clare's artistic and professional journey was back in 2017 when she decided to extend her art to silk. "Turf War" was the first of her original paintings to be delicately applied to this luxurious fabric, and it wasn't long before others wanted to wear a piece of nature's elegance with them, combining fashion and art:
This stunning design also came out in sell-out monochrome colours for 2021: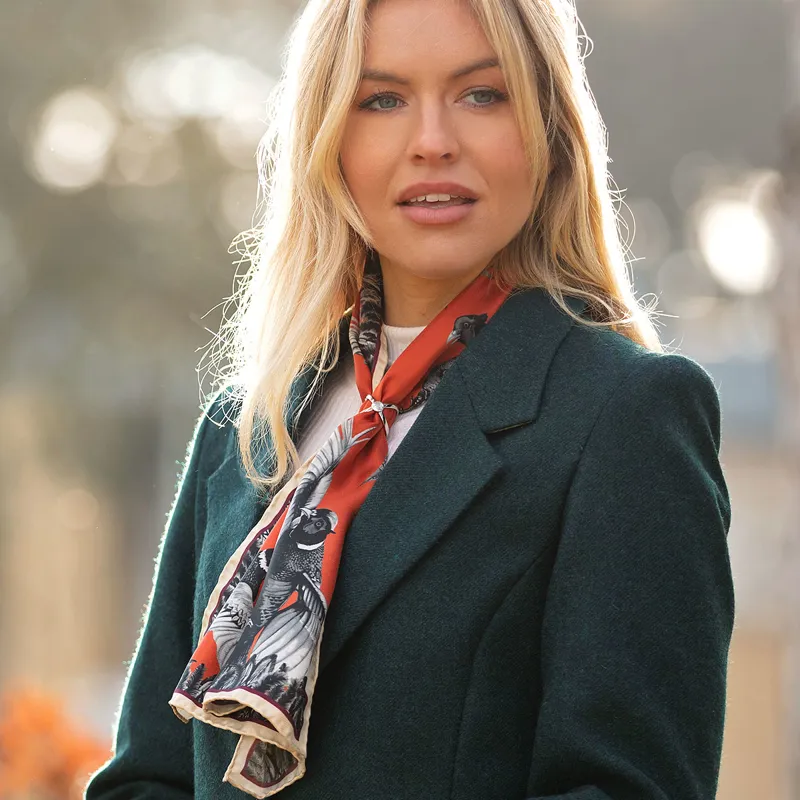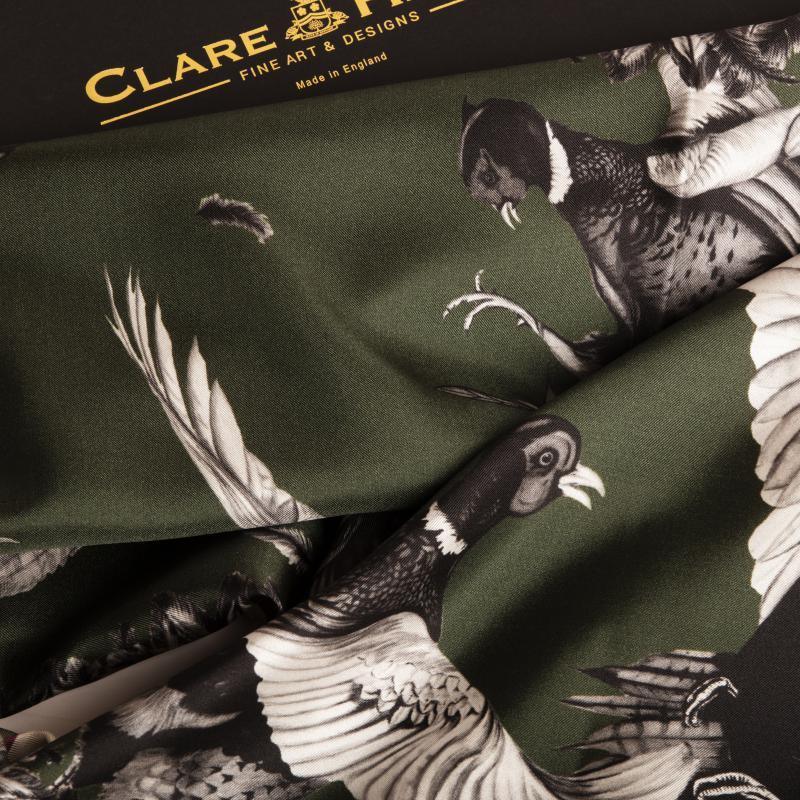 And last year, a limited edition number in the stunning Gold & Ebony colour-way:
Duck Egg
And this year, as we head towards Christmas, we introduce the stunning Duck Egg large square scarf - a colour that adds yet another dimension to this stunning piece.
The muted yet enchanting tones of Duck Egg create a perfect harmony, making this scarf an exquisite accessory for the upcoming season. It's a fresh chapter in the legacy of "Turf War," inviting admirers to embrace the evolving beauty of nature.